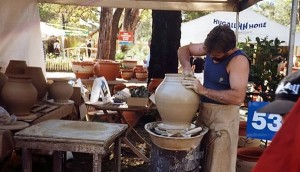 Kim Lyons is a Master Potter who has 40 years experience in the ceramics industry. He started out at the age of 15 from the back shed of his parents property. He made a variety of gardenware, vases, bread crocks, and kitchenware. He built his first wood and oil fired kiln when he was 17. Kim then spent several years at university but his passion for pottery took hold at the age of 20 where he made the decision to start his own commercial pottery business. Kim Lyons Pottery was founded.
Kim has grown his business into being one of the largest commercial potteries in WA. Over the years he has acquired various parts and machinery of other pottery businesses that have closed. Some of these include the Chidlow Pottery Range, Courtland Pottery, Australian Fine China, Clay Designs and various other small potteries. He has expanded his operations in Lesmurdie to include a flexible clay manufacturing plant, gas fired kiln, hydraulic press, controlled drying plant, specialty brick plant, and his modified potters wheel. He has also opened a second workshop in Toodyay which is suited for making roof finials and hand thrown terracotta pots. The Toodyay workshop is an hours drive from Perth on Picnic Hill Road, and overlooks the Avon river valley.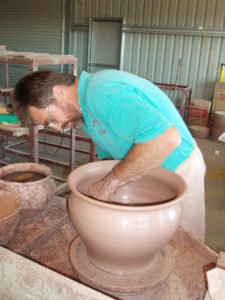 Kim's products are of a very high quality and it is common to find flower pots that are 30 to 40 years old and still looking good. Each pot that Kim has thrown is date stamped with the year and signed on the bottom.